How often should commercial pools be cleaned in Florida? This is a vital question for commercial property owners in the state. Pools in Florida are typically used year-round, so they often get dirtier faster than pools in other areas. Warm weather also encourages bacteria and algae growth more readily than cooler temperatures.
Also, a clean and sparkling pool is a great attraction for resorts, hotels, rental homes, and apartment complexes. On the other hand, an unkempt and unwelcoming pool can easily chase away potential guests! To ensure a stunning pool on your property, check out some tips for needed commercial pool cleaning. Then, discuss any additional questions with a Florida pool care contractor near you as needed.
How Often Should You Clean Your Commercial Pool in Florida?
First, note that there are no laws that demand property owners clean their pools on a certain schedule. However, laws dictate a commercial pool's overall condition and cleanliness. For instance, pH must remain at 7.2 to 7.8. Also, commercial pools should remain free of visible dirt, algae, floating debris, and sediment.
Commercial property owners should maintain a cleaning schedule that ensures their pools remain clean. This schedule will vary from property to property and even pool to pool! For instance, some large apartment complexes might offer multiple pools. However, some pools might see little use while others are always busy with guests!
In such cases, you might clean the busier pool daily and other pools every few days. Skimming all those pools, even without a full cleaning, also helps keep them fresher and free of algae and other growth. They'll also appear more welcoming and ready for guests!
Also, commercial property owners should consider testing pool water every day. These simple tests can tell you the pH levels, the presence of algae, and so on. You can then add treatments, including added chlorine, an algae bomb, and other solutions. Above all, clean and treat your commercial pool as often as needed for it to remain in good condition.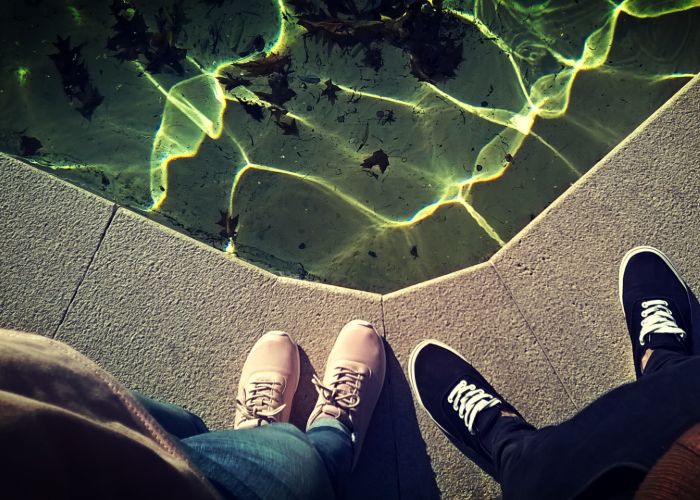 How Often Should Commercial Pool Water Be Changed?
Generally speaking, a property owner might change commercial pool water every five to seven years. A pool service contractor can also offer suggestions for ensuring clean water in your pool. Also, schedule this work during mild weather and not the middle of summer. Harsh, hot sunlight often damages exposed pool tile and cement.
Additionally, rely on a professional for pool draining and refilling, and allow several days for this process. Draining a pool too quickly can allow its surface to shift and then crack! New water might also need several days to adjust to chemicals before swimming is safe. It also takes several days to heat it as needed.
Moreover, consider having a professional pool service contractor inspect the pool's surface when it's empty. Spotting and patching cracks as they form keeps them from spreading and getting more extensive and costly. You might also consider replacing outdated or damaged tile during this time, for a stunning new pool surface.
How Do You Keep a Pool Clean in Florida?
Check out a few tips for keeping a residential or commercial pool clean in Florida:
Clean the filter basket often! A clogged basket allows sediment to wash back into the pool's water.
Skim the pool every day. Skimming removes debris that clogs the filter. Also, some debris might encourage algae growth and other contaminants. Skimming also means a cleaner, more welcoming pool!
Install a mesh fence, glass fence, or screens around your pool rather than chain link or other open fences. Solid or mesh materials catch more dirt, dust, and debris before it can settle onto a pool's surface.
Trim overhead branches that would otherwise drop leaves, needles, moss, sap, and other debris into a pool.
Install a shower near the pool so swimmers can rinse off before getting in.
Also, remember that your pool care professional can offer tips and suggestions for proper maintenance. He or she might notice issues around your property contributing to a dirty pool. They might also suggest various chemical solutions to ensure a clean, sparkling pool on your property.
Sarasota Pool Service Pros is happy to help answer the question, how often should commercial pools be cleaned in Florida? Hopefully, you found this information useful! If you're in the market for expert cleaning and maintenance, call our Sarasota pool services contractors. We offer FREE quotes and a wide catalog of pool care options. For more information or to schedule your no-cost consultation, use our callback form or contact our team today.